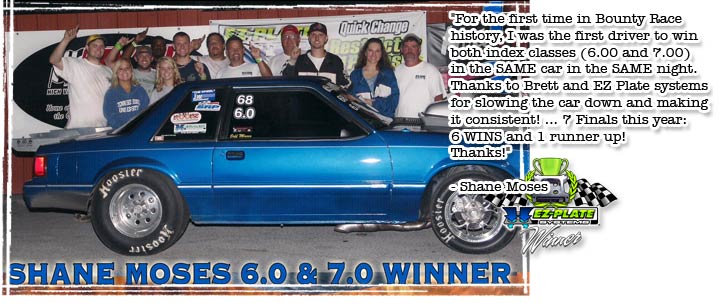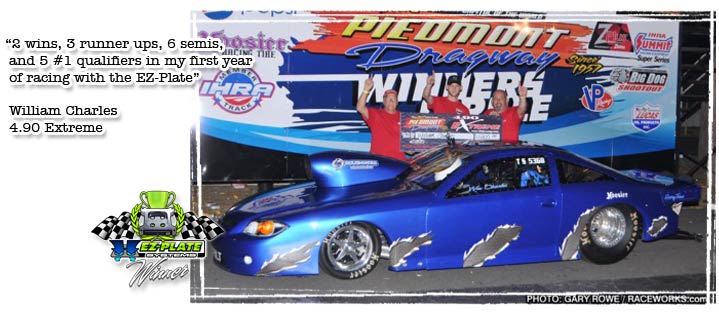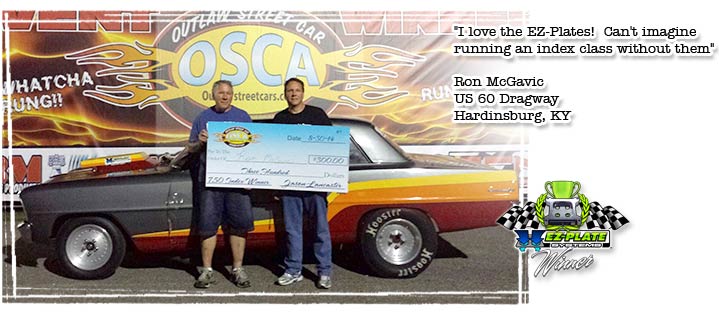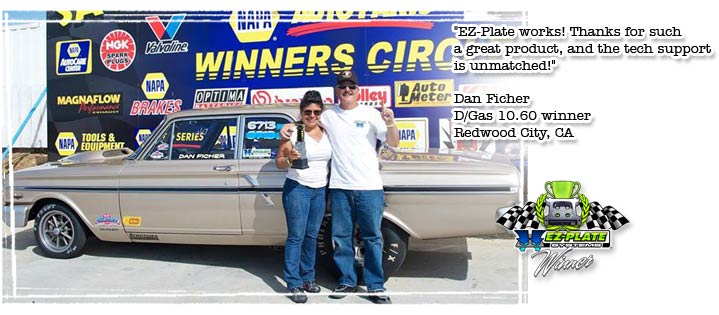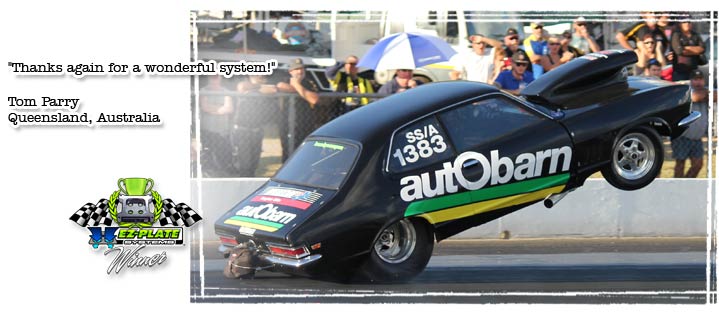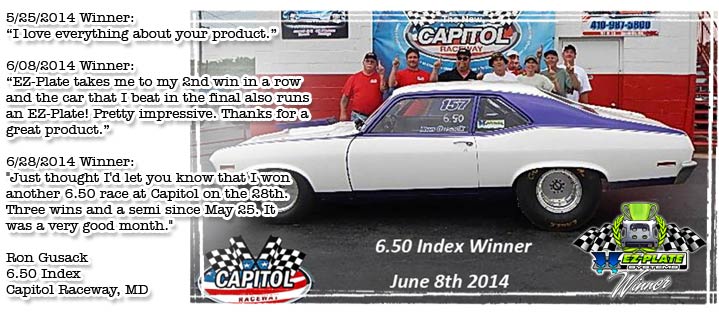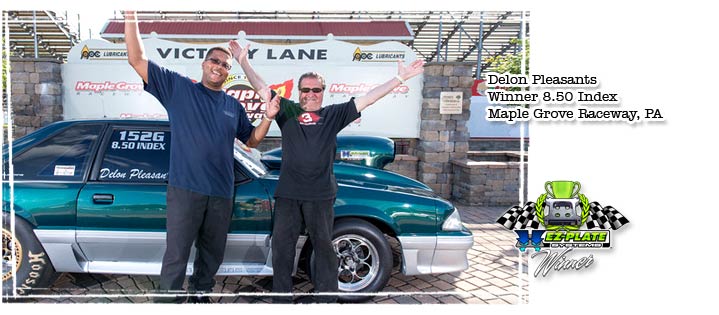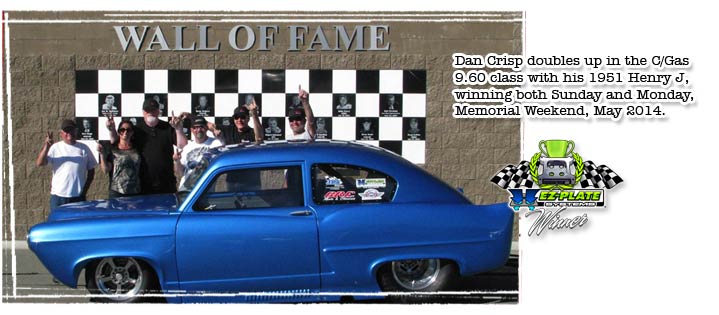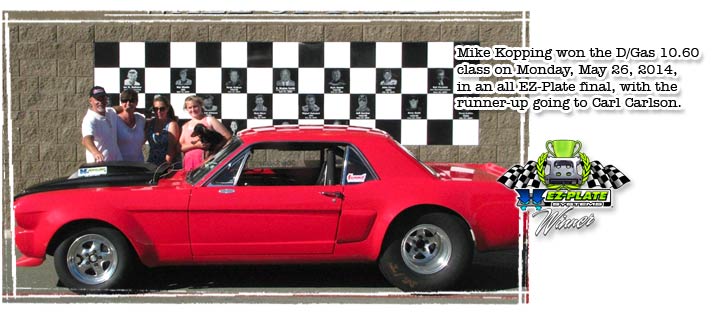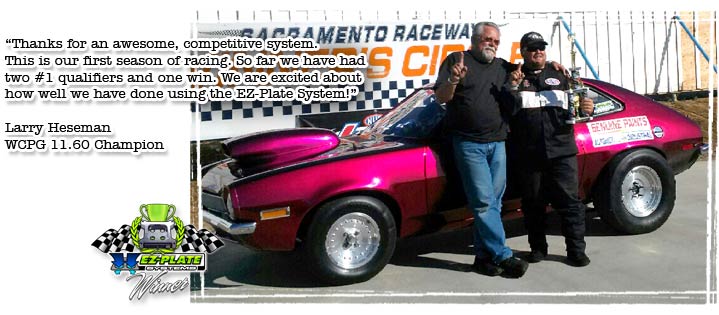 See even more satisfied EZ-Plate System users >>



| | | |
| --- | --- | --- |
| The secret to index racing is just a few simple steps away! | | Specifically designed for Index, Open Comp, and Super class drag racing, EZ-Plate Systems under-carb restrictor plate takes the guesswork out of running your index, and enables you to easily set up your race vehicle to run your desired E.T. If you're not running the EZ-Plate System, you're not doing all you can to win! |

Once the EZ-Plate System is installed, there's no need to remove the carb to change plates! Swapping to a different size restrictor plate is a 20 to 30 second job you can do even in the staging lanes.
Check the features of this revolutionary update to a proven system, and you'll find that running "dead-on" the index is easy with the patent pending EZ-Plate System!
Specifically designed for Index, Open Comp, and Super class drag racing
Set your car up to run any index, 1/8 or 1/4 mile - System is legal in all classes
Easily run any index slower than your quickest all-out E.T.
EZ and proven consistency - plates repeat every pass
No need to remove carb once the system is installed - just choose a plate and race!
EZ to interchange removable restrictor plates slide in and out from the side in less than 30 seconds!
Each plate change equals .015 to .020 E.T. difference for precise adjustments
Precision machined for plate-to-plate accuracy and predictable results
Superior design and improved mixture flow over butterfly or aperture-style restrictors that have parts directly in the mixture flow path
Stainless steel restrictor plate attachment hardware for corrosion-free performance!
Make last minute plate changes in the lanes to adjust your E.T. for changing weather, wind, or track conditions
Systems available to mount below 4150 or 4500 style carb flange
No jetting, timing, or any other tuning changes needed
Easily run two different classes with the same car on the same day - just by swapping plates
Each kit is custom-sized to your application, and comes with 20 different plates
Additional plates available to run any E.T. range
Can be used with other items (i.e. additional spacers, nitrous plates, etc.)
System can be used with restrictor plate in place, or remove the plate and use the base as an open spacer for all-out performance!


Complete system includes:
carburetor spacer, retaining cover, nut, and 20 different sized restrictor plates.
Additional plate packages available separately. Call for details.
California residents will be charged sales tax.

Each EZ-Plate System is carefully calibrated based on your race vehicle and desired E.T. range. Call us today at 916-647-9347 for a comprehensive review of your combination, and let EZ-Plate Systems custom tailor the system you need to run the E.T. you want! See the F.A.Q. page for more information.
"The EZ-Plate System is the winningest, most dominant, elapsed time regulating product on the market today for non-electronics Index racing, and is the quickest way to zero in on your desired E.T. It's a better and smarter way to race!"